Beauty Vitamin Blend for Skin - 60 tablets
Description
Be-you-tiful is a vegan beauty vitamin blend of organic B vitamins for your hair, skin, and nails. Except - Ora Organic has taken it to the next level with organic seaweed and algae extracts (fucoidan and astaxanthin) and 1 billion probiotics. 

Ora Organic scoured the world in search of the most impressive ingredients to help support healthy glowing skin, hair, and nails at any age. 

This beauty supplement contains some seriously hard-to-find natural and vegan sources of B vitamins (niacin and biotin) from organic sprouted quinoa grown in Austria. 

Now let's chat about some of the most powerful antioxidants on the planet: seaweed and algae extracts, organic fucoidan and organic astaxanthin. The fucoidan is sourced from down-under in Australia and the astaxanthin comes from the prestigious Yunnan Province in China and is grown in pristine water from the nearby Himalayas. 

This superstar lineup of organic ingredients is here to help protect against skin pigmentation, the appearance of wrinkles and keep your epidermis epically hydrated! Your hair, skin, and nail vitamins just got taken to the next (plant-based) level. 
dairy-free // gluten-free // non-gmo // organic // soy-free // vegan
30 servings | 60 tablets
Made in USA
What does it do?
B Vitamins (Niacin, Biotin) 
It's well known that B vitamins are incredibly important for maintaining healthy skin, nails, hair, and immune function and are notoriously difficult to get on a plant-based diet without supplementation. 

Fucoidan 
In nature, this polysaccharide protects seaweed against a range of external stresses, including UV radiation (hello sun damage). 

Now, Ora Organic know you aren't made of seaweed, so here are a couple of ways Fucoidan can help support healthy skin and aging gracefully:
It can increase Sirtuin-1 - a protein considered an important marker for cell aging and is believed to play important roles in longevity and reduction of age-related diseases and dermatologic conditions.
It can also reduce the activity of elastase, tyrosinase and collagenase enzymes, responsible for breaking down connective tissue and the signs of aging tissue, by up to 99%.
Astaxanthin: 
Ever wondered why flamingos are pink? It's the astaxanthin (a carotenoid) they consume through their diet that's responsible for those glossy pink feathers. But don't worry - you won't turn pink from these pills (or grow feathers). Astaxanthin is an extremely potent antioxidant and safe natural anti-inflammatory that has over 40 human clinical studies in anti-aging & cellular health alone. 

Multiple studies have shown that taking just 4mg of astaxanthin a day (Be-you-tiful contains 5mg) can provide significant improvements in the appearance of fine lines/wrinkles, elasticity, and in the moisture content of the skin in 4 to 6 weeks. 

More good news for all those sun worshippers out there - after Astaxanthin has had time to accumulate in the skin, it can help protect against ongoing damage from ultraviolet light exposure, and has even been shown to help inhibit hyper-pigmentation (age spots). 

Bacillus Subtilis 
This is a hardy and resilient probiotic that supports healthy gut function and stimulates normal microflora in the gut. Poor digestion can often affect your overall health - including stopping you from absorbing key nutrients your body needs.
DISCLAIMER
*These statements have not been evaluated by the Food and Drug Administration. This product is not intended to diagnose, treat, cure, or prevent any disease.
All related product images and information are provided by manufacturer(s)/ vendor(s), may differ from the actual product.
Ingredients 
Organic Quinoa Sprout Extract, Organic Green Algae (Haematococcus pluvialis) Whole Plant Extract (astaxanthin), Organic Bladderwrack Whole Plant Extract (fucoidan), Bacillus subtilis (containing 1 billion CFU)
Other Ingredients: Organic Tapioca Maltodextrin, Vegan Capsules
Contains NO: dairy, gluten, soy, GMOs, tree nuts, added sugars, nor artificial colors, flavors, sweeteners or preservatives.
How to Use
Take 2 tablets daily, on an empty stomach in morning. Recommend taking them first thing in the morning, and/or 30 minutes prior to eating, or 2 hours after a meal. 
Storage: Store in a cool, dry place.
Hong Kong & Macau Shipping
Free shipping in Hong Kong & Macau on all orders over HKD300 (net).
Flat Rate HKD50 on orders under HKD300.
Orders are processed within 1-2 working days with estimated delivery within 3* working days. You will receive an email containing a tracking number once your order is shipped.
Hong Kong In-store Pickup
No minimum spending if choosing "In-store Pickup" option.
Buyer can come to our showroom during opening hours for the pick up once the order confirmation email is received. Order must be picked up within seven working days.  If we did not hear from buyer before deadline, we may restock and fulfill other orders.  Buyer may need to wait at a minimum of two to four weeks if items are sold out after the seventh working day.
Regrettably, we do not accept cancellation or refund, please refer to Return Policy for more details.
Taiwan Shipping
Free shipping in Taiwan on all orders over HKD500 or TWD2,000 (net).
Flat Rate HKD100 or TWD400 on orders under HKD500 or TWD2,000.
Orders are processed within 1-2 working days with estimated delivery within 5-7* working days – depending on locations. You will receive an email containing a tracking number once your order is shipped.
Global Shipping
Free global shipping on orders over HKD1,500 or USD200 (net).
Flat Rate HKD150 or USD20 on orders under HKD1,500 or USD200.
Orders are processed within 1-2 working days with estimated delivery within 5-7* working days – depending on locations. You will receive an email containing a tracking number once your order is shipped.
*Please anticipate additional 2-4 working days during sales period due to high volume of orders and during any public holidays which might affect courier service.
Unexpected Delays
Unfortunately we cannot be held responsible for delays due to courier company issues, any unforeseen customs delays or issues out of our control.
Duties, Tax or Additional Charges on Receipt of Goods
Regrettably we cannot be held responsible for any possible duties, taxes or additional fees which may be imposed by the country where delivery is made. The responsibility of settling these charges, if any, lies with the customer.
Please choose carefully – all sale and discounted items are final and is not eligible for return and refund. Regrettably, returns for reasons of general dissatisfaction or change of mind cannot be offered. 
We shall arrange a refund should the item received is damaged or defected. Please send us a detailed email to info@theveganconcept.com with the reason of return within 14 days of delivery and we will provide return and mailing information. No returns accepted unless agreed and confirmed by Vegan Concept via email. We shall notify you via email once your return is received and whether the return item is approved/disapproved for a refund. For approved refund, please allow 2 – 3 weeks for the refund to be credited back to your card.
Return & refund will be not accepted after 14 days of delivery. 
Vegan Concept only accept returns purchases made from www.theveganconcept.com. If you purchased our products from our authorized retailers, please contact them directly for assistance.
We reserve the right to reject any return request that do not comply with the conditions above.
Customer Reviews
17/03/2021
H N.

Hong Kong
I recommend this product
食了半個月的體驗
因為皮膚有皮膚炎問題,所以想補充一下褐藻醣膠,而平時都食開維他命B雜同益生菌,呢款好適合我,暫時覺得皮膚炎症問題有幫助,而剛服用頭幾日對手的皮膚明顯飽滿了同無咁乾,是有效用的,唯一是價格對我稍微偏貴一點點。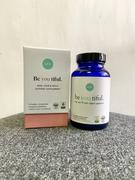 26/12/2020
YF

Hong Kong
I recommend this product
An excellent supplement for overall beauty
I have been taking the third bottle of this supplement. I have sensitive, acne prone skin and it has helped to keep my skin stable. My hair is stronger and shinier than before. I used to feel tired when waking up but I now feel rather energetic every morning. Easy to swallow, and no unpleasant after taste. Recommend this product!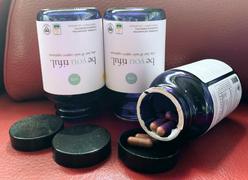 23/07/2020
Loretta A.

Hong Kong
Skin elasticity ^^
My skin becomes more elastic after taking this item for two months. The texture looks better as well. ^^